Dyslexia Friendly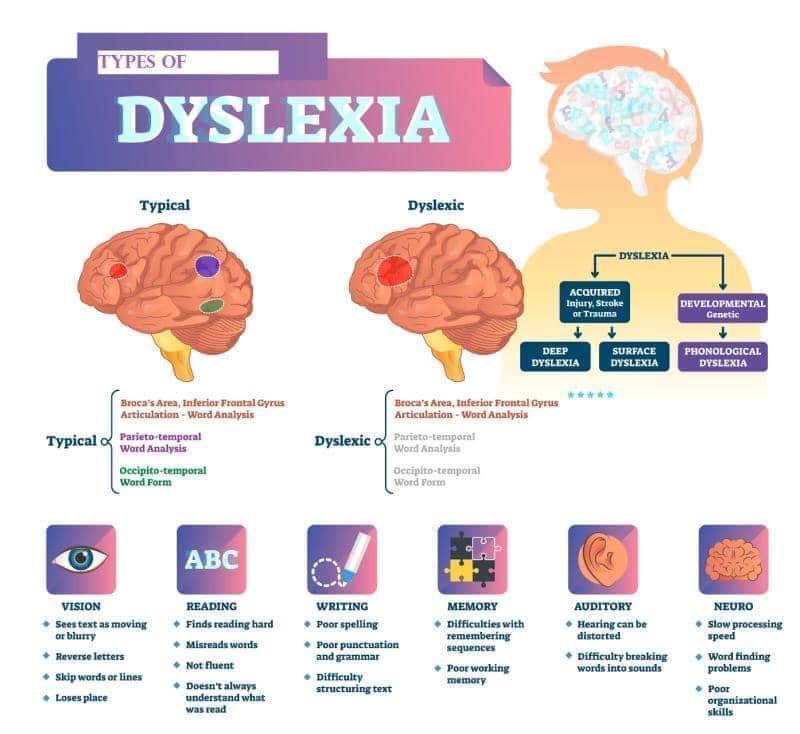 Dyslexia is a fairly common, yet specific learning difficulty that can cause problems with reading, writing and spelling.  It does not affect intelligence. 
An estimated 1 in 10 people in the UK have some degree of dyslexia.
There are many advantages to dyslexia too; good spatial knowledge, improved pattern recognition, sharper peripheral vision, highly creative and an ability to think outside the box.

Did you know?  1 in 3 business entrepeneurs in America have dyslexia.
Here are some highly successful and famous people who have dyslexia:
Jennifer Aniston and Tom Cruise - Actors
Steve Jobs - Creator of Apple Computers
Cath Kidston - Fashion designer
Pablo Picasso - Painter
Richard Branson - Virgin owner and entrepeneur
Walt Disney - Creator of Disney
Dr Carol Greider - Noble Prize Winner 2009
Albert Einstein - Inventor, theorist and all round genius
Thomas Edison - Inventor (of the lightbulb amongst others)
Winston Churchill - British Prime Minister
George Washing, J F Kennedy and Thomas Jefferson - U.S. Presidents
(the list could go on and on).
 
Churchfields is a dyslexia-friendly school which means we have an excellent understanding of how to help people with dyslexia and all of our support systems are used across the school to help all children learn effectively.
 
We're also here to support parents with dyslexia who can request newsletters and information in a different format.
 
For further support, please speak to your class teacher or school SENCO, Mrs Taylor.
Additional support can be found online (please follow the links):
 
BDA campaigns and lobbies for long lasting and sustainable change for the benefit of dyslexic people. It provides impartial, objective advice and support, sets the standards for and accredits dyslexia knowledge and professional expertise, promotes research and disseminates best practice.
The BDA Helpline (0333 405 4567) is completely free and confidential for all dyslexia related calls and emails. The BDA Helpline provides dyslexia information and advice surrounding dyslexic issue
Dyslexia Action is one of the largest dyslexia charities in the UK. They provide services and support for people of all ages. There is really useful information for parents and carers on their website including a reading list for reluctant readers. Local centres in the UK provide assessment and tutor facilities. All Dyslexia Action Centres offer free half-hour consultations as well as assessments, screenings, tuition and consultancy.

This is a closed group on facebook and you can request to join. Professionals and parents share information to point you in the right direction to get the help that you need. It is a friendly group where you can ask any questions or share your experiences. 

It forms part of www.operationdiversity.co.uk a business set up to provide children, adolescence and adults with a wide range of SpLDs, including dyslexia, with access to information, advice and products that will support them in their daily lives, including at home, in education and employment.

John Hicks is a parent of two daughters with special educational needs that include dyslexia and a life coach that supports parents as they support their children with dyslexia and other special needs. The blogs provide free resources that help to empower your children to thrive at school and beyond.