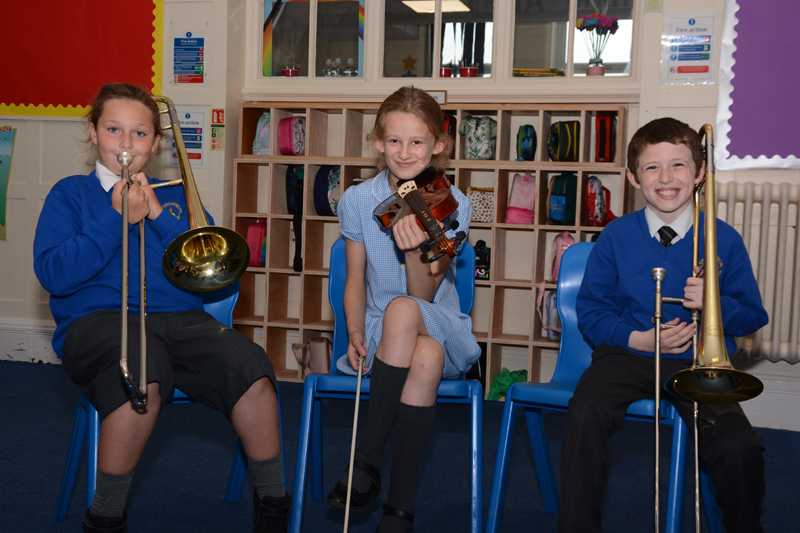 Music
 Intent
We intend that every child studying music within Churchfields Primary School is educated in both the theory of music and practicalities of performing music. They will receive high quality first teaching from within Churchfields combined with the specialist provision from Staffordshire Choirs Association (Part of The Music In You) and Entrust providing instrumental teaching.
Children will learn about the history of music and the theory of reading and writing (composing) music, as well as learning how to sing musically and about various musical instruments. It is our aim that each child will leave the school with an all-round knowledge and appreciation of music as both an academic subject and a passion for the practical performance of music, whether that be singing or playing an instrument. These elements combined have formed the crucial knowledge that underpins our music curriculum. All involved in delivering music lessons at Churchfields have the crucial knowledge at the centre and work together with the music leader to ensure the consistency across the school that will enable all children to be successful.
Many studies proved the importance of music, how it forms part of many people's daily life in various ways and the impact of it in many other areas. We equip children with both the knowledge and opportunities to develop their skills that they will need. Music can also be therapeutic and this will also be explored. We will provide children with the good quality resources they will need in order to access a rich and varied curriculum, including good quality instruments where needed, regardless of background.
We will also provide opportunities for children to be part of a choir where they can fully apply their performance skills further and develop their confidence to a greater level.  Children will be able to participate in a number of performance opportunities over the year that will enhance the quality musical education they already receive at Churchfields.
Downloads